GRANTS PASS DOWNS SUMMER RACE MEET!
The nine day meet will run every Tuesday and Wednesday (and one Monday)!
Post Time is 4pm.

The dates are: June 16, 17, 23, 24, 30 and July 1, 6, 7, 8.


The EOLS summer race meet and the Prineville summer race meet have been cancelled
PLANNING A BREEDING THIS SEASON?
Visit our HORSES tab and contact the farms to schedule!
CONGRATULATIONS TO THE OTOBA CHAMPIONS OF 2019!
Click the Special Events Tab to see the winners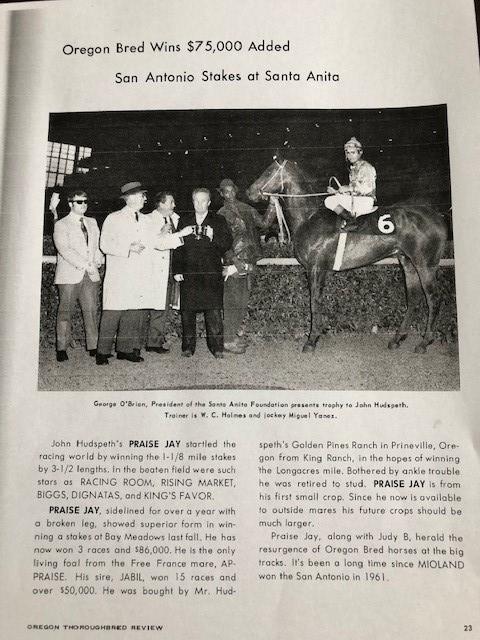 Praise Jay
Did you spot the error in the above article?
Praise Jay(OR), 1964 foal by Jaybil - Appraise, by Free France. Bred by John Hudspeth
Praise Jay won the San Antonio Stakes on February 22, 1969. The article states that the last Oregon-bred to win the San Antonio Stakes was Mioland in 1961. Mioland would have been 24 years old in 1961! Mioland actually won the San Antonio Stakes on January 1, 1941! Mioland held the spot of top earning Oregon-bred Thoroughbred for decades. He was foaled in 1937 and was by Mio D'Arezzo - Iolanda, by Vespasian. Mioland is the only Oregon-bred to have competed in the Kentucky Derby. He placed 4th in 1940. His career earnings during the 1930s - 1940s was $244,270. That would be over $4.4 million today!
Are you interested in owning a racehorse?
Click on the Horses tab for more information on Stallions in Oregon, horses for sale and available partnerships.
The Racing Info tab has ownership information and industry links to help you get started on your way to the Winner's Circle!
For up-to-date racing news, sign up for our e-newsletter and Facebook. Follow us on Instagram @oregonthoroughbreds
View our current e-newsletter by clicking the link or pasting to your browser:
https://conta.cc/3d7zazQ
May E-Newsletter: Some Good News!
INFORMATION ON RACE HORSE RETIREMENT

Thoroughbred Charities of America: www.tca.org

Canter USA: www.canterusa.org/washington

Retired Racehorse Project: www.retiredracehorseproject.org

Thoroughbred Adoption: www.thoroughbredadoption.com

America's Best Racing: www.americasbestracing.net

Equine Now: www.equinenow.com



Oregon Thoroughbred Owners & Breeders Association, Inc.
P.O. Box 17248 ~ Portland, OR 97217-0248
Office: 503.285.0658 ~
Email: office@oregontoba.com